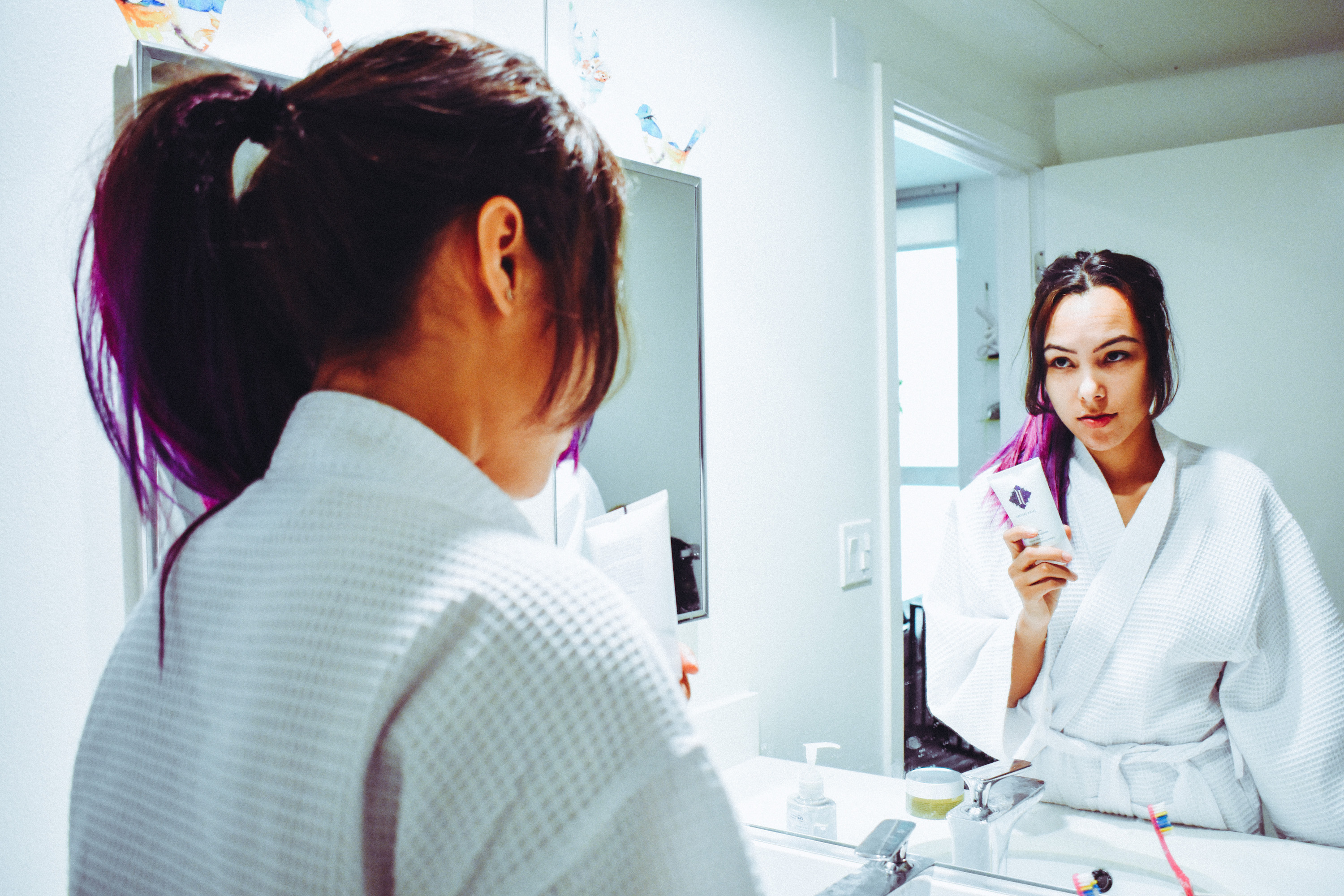 I have had a craptastic end to my week. My apartment building has decided to charge me an extra $200 this month in "fees" and I have come down with a sudden cold. Instead of wallowing in despair, I decided to have an at home facial. I'll walk you through my process + the products I used.
A little pre-spa setup: Dim the lights, put on a playlist like this one:
If you have an essential oil diffuser, pop it on. My fave blend is equal parts lavender, mint, and orange oil.
1. Cleanse
The first step in any facial routine is cleansing. It's time to remove any makeup, dead skin, oil, glitter, whatever else you have going on. I rummaged through my ever increasing skincare drawer and decided to go with Derma E's oil cleanser. I like this one a lot, despite the fact that I have oily skin because it cleanses my skin without stripping it to the point that my skin makes more oil.
2. Steam
If you have a personal steamer and or a steam shower you are winning at life and I am impressed with you. Us plebs have to resort to either 1. huddling over a pot of recently boiled water with a towel over your head, or 2. taking a really hot shower. I find 2 more enjoyable so that's what I did. No more than 10 minutes is necessary, but if you really want to pamper yourself, take all the time you want with this step (as long as the steam isn't too hot).
3. Tone
Toning is the anti-sceptic step in the facial routine. All of the toxins drawn about from steaming must be defeated in chemical combat. My toner this time is June Jacob's Pore Purifying Toner. I love the scent and consistency. So, swipe a toner up in there.
4. Exfoliate
Attention my fellow acne bbz: BE CAREFUL WITH THIS STEP. There are two kinds of exfoliants in the beauty world: physical and chemical. Physical are generally cheaper because basically they just require a bunch of tiny hard things that scrape your skin. Think of your basic drugstore "face scrub". These are NO BUENO for acne sufferers. I learned that the hard way. My preferred method of exfoliation is through at home chemical peels. They are not as scary as they sound, I promise. I use Neostrata's Perfecting Peel. I use these twice a week, though when you first start out I'd recommend only once a week.
5. Luxuriate
Now I'm just getting cutesy with the titles. This is the *mask* phase (cue ooohs). There are so many different ways you can go with this step, depending on the result your looking for. Want to even your skintone? Go with a Vitamin C type mask that is made for brightening dark spots. Need some extra moisture in your life? Slap on a super hydrating mask with hyaluronic acid. Want to purify and soak up oil? Go with a clay mask. I got a sample of this "Glow Getter" supermud from Sephora for my birthday so I went with that one.
6. Moisturize
The last and most important step. I went that extra route cause *I'm* extra and slathered on a super moisturizing mask from Peter Thomas Roth. That's right, TWO masks in a row. If you're pressed for time or don't need too much extra moisture, just your normal moisturizer will do. Ideally one with spf if it's still sunny out and you're planning on going outside. I usually leave this mask on overnight instead of my usual moisturizer. It absorbs into the skin deliciously.
That's it! Now you've managed to save a few bucks and make your skin feel like you are a duchess.
Any holy grail facial products I should know about? Let me know in the comments!