It's been about a month since I started taking my Ritual vitamins, so it's time to check in! I've got to say, taking these with my iced spearmint tea in the morning really gives me all the self-care feels, and on days when I'm having a matcha, forget about it! I feel like Chris Traegar from Parks and Rec.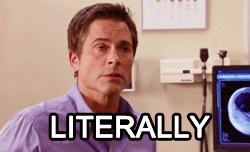 Have I seen any groundbreaking results? No, but that wasn't my expectation, nor what Ritual claims should happen. I will say, however, that I have had one very noticeable result: GLOWY SKIN
Here's a quick and dirty no makeup iphone selfie:
I'm doing a bunch of things at once for my skin (Curology, Spearmint Tea, etc.), so my acne has been completely under control for the first time in years. This meant I could focus a bit more on the actual texture of my skin without being distracted by angry blemishes.
I haven't been drinking any more water than usual, but in the past few days I've started to notice my skin looking seriously healthy and glowy. I'm going to attribute this to the vitamins because the other stuff is focusing on acne prevention and anti-bacterial properties.
As far as mood & energy goes, I haven't seen much of a difference, and unfortunately I'm still being plagued by dark circles under my eyes.
But, so far so good. At this point I'm pretty sure I'll continue taking them after my 3-month experiment is over, if only to get that healthy glow.
Ritual retails for $30/month You can use my referral link to save $5 on your first box.
I'll check in again next month!